1 of 2 Photos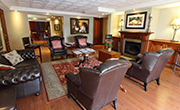 Back
No Categories Assigned | No Categories Assigned
Candlewoods Guest House
About
Candlewoods Guest House is nestled in the heart of a rich heritage site in Candlewoods Country Estate, Centurion. It is a Victorian Style building with pit roofs and wooden windows. The interior is stylishly decorated with rich fabrics and crisp white linen.
Candlewoods Guest House
Louwlardia X34, Johannesburg, 0157
Directions
Astley Rampersad
31 May 2018
This feature is coming soon!